In Memory
Tim Dwyer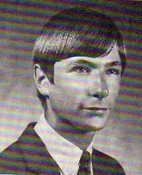 Timothy L. Dwyer
July 12, 1951 - February 13, 2011

| | | |
| --- | --- | --- |
| Birthplace: | Muscatine, Iowa | |
| Resided In: | Muscatine Iowa USA | |
| Visitation: | February 17, 2011 | |
| Service: | February 18, 2011 | |






TIMOTHY DWYER
MUSCATINE, Iowa – Timothy L. Dwyer, 59, of Muscatine, died Sunday, February 13, 2011, at his home following a brief illness.
Funeral Mass will be 11 a.m. on Friday, February 18, 2011, at the St. Mathias Church, 215 West Eighth Street. The Reverend Jason Crossen of the Ss. Mary and Mathias Parish will officiate the service. A funeral luncheon will be held at Gannon Hall following the Mass.
Visitation will be from 5 to 7 p.m. on Thursday, February 17, 2011, at the Ralph J. Wittich-Riley-Freers Funeral Home with a Rosary Prayer Service at 7 p.m. at the funeral home. Memorials may be made to the St. Mathias Church or the Iowa Ornithologists' Union.
Timothy was born on July 12, 1951, in Muscatine, the son of Larry and Mary Spaulding Dwyer. He was a 1969 graduate of Muscatine High School.
He was a US Army veteran, proudly serving with the Military Police in Germany from 1972 to 1974.
He spent 16 years with the love of his life, Cynthia Proffitt, who preceded him in death on April 16, 2002.
He was a member of the Ss. Mary and Mathias Parish, attending St. Mathias Church.
He was an elite birder, having been recognized by the Iowa Ornithologists' Union. He had a passion for wildlife and nature and spent his free time enjoying, observing, and studying it all.
Those left to honor his memory include his parents, Larry and Mary Dwyer of Muscatine; two brothers, Gerald Dwyer and wife, Kathryn, of Missoula, Montana, and Patrick Dwyer of Davenport, and his children, Brett Wolever, Lucas and Emily Dwyer; two sisters, Kathleen Fahy and husband, Jeff, of Muscatine, and their children, Matthew, Nicholas, and Sarah Fahy, and Janice Bryant and husband, Gentry, of Colchester, Illinois and their son, Gabriel Kerr.
He was preceded in death by his wife.