In Memory
Greg Guck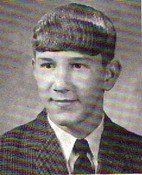 Funersl services will be held a t10:00 a.m. Wednesday at St. Mathias Church, Muscatine, for Gregory J. Guck 18, who burned to death early Sunday when fire swept thru the mobile home dormitory where he was residing at the campus of the Morrison Institute of Drafting and Technology at Morrison, IL.
The body is at Riley funeral home, visitation will begin after 7:00 this evening. The rosary will be recited at 8:00 p.m. Tuesday at the funeral home. Interment will be at St. Mary's cemetary.
Gregory, the son of Mr and Mrs Henry J. Guck, 1007 Newll Ave had been a student at the Morrison Institute for 15 months following his graduation from Muscatine High School with the class of 1969.
Paul Brandt, 18, of Elgin Il, who was asleep at the other end of the 60ft unit, managed to escape before it was consumed by the flames. Two other youths who share the unit were away at the time. Brandt said he awoke about 8:30 a.m. Sunday and found his room filled with smoke. He made his way through the living room and escaped through a front door. He could then see the other end of the unit, housing Guck's bedroom , engulfed in flames.
Whiteside county coroner Ted Kontos, sterling, said Guck died from severe burns. His body was found in his room about a foot from a door.
The dormotory is similar to a large number of other such units which house students attending the drafting school. An investigation into the blaze is being conducted by Morrison author and the state fire marshall's office.
Gregory's twin brother, Michael, who also attends the Morrison Institute, reside in another doritory. Both were outstanding divers while attending Muscatine High and have since been inducted into the Muscatine High School Hall of Fame.
Gregory was born Sept 30, 1951, at Minneapolis, MN, the son of Henry Johm and Virginia C. (McBride) Guck.
In addition to his identical twin brother, Michael, and his parents; Gregory is survived by brothers Charles, Thomas and Christopher at home and a sister Miss Kathleen Guck, Davenport. He was preceded in daeth by his grandparents.