In Memory
Steven Hank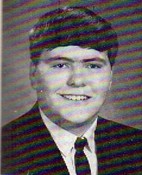 Steven W. Hank
March 11, 1951 - June 21, 2009
Birthplace: Muscatine, Iowa
Resided In: Muscatine Iowa USA
Visitation: June 24, 2009
Service: June 25, 2009
Cemetery: Greenwood Cemetery

STEVEN HANK
MUSCATINE, Iowa – Steven W. Hank, 58, of Muscatine, died Sunday, June 21, 2009, at the University of Iowa Hospitals and Clinics.
Funeral Service will be 1:30 p.m. on Thursday, June 25, 2009, at the Ralph J. Wittich-Riley-Freers Funeral Home. Burial will be in Greenwood Cemetery.
Visitation will be from 3 to 7 p.m. on Wednesday, June 24, 2009, at the funeral home. Memorials may be made to the American Heart Association or the Muscatine Humane Society.
Steve was born on March 11, 1951, in Muscatine, the son of Chester E. and Beryl E. Woods Hank.
He was a graduate of Muscatine High School, class of 1969.
He married Tami Barela and they later divorced. He married Cindy J. Fix on September 27, 1986, in Muscatine.
He worked for Grain Processing Corporation from 1969 to 2008, as the superintendant of the Maltrin Division.
He enjoyed golf and loved playing softball years ago.
Survivors include his wife, Cindy J. Hank of Muscatine; two sons, Jeremy Houseman of Muscatine, and Luke Hank of Bettendorf; one daughter, Stacy Hank of Wilton; one grandson, Chaz Houseman; one brother, Dennis Hank and wife, Sharon, of Bettendorf; and two sisters, Patricia Montroy and husband, Jim, of Monmouth, Illinois, and Linda Moench of Muscatine.
He was preceded in death by his parents and a great-niece, Lauren Schmidt.