In Memory
John Hatfield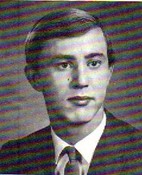 Jonsey 'Jon' H. Hatfield
May 18, 1951 - December 09, 2008
Birthplace: Muscatine, Iowa
Resided In: Muscatine Iowa USA
Visitation: None
Service: December 12, 2008

Jonsey 'Jon' H. Hatfield
MUSCATINE, Iowa — Jonsey "Jon" H. Hatfield, 57, of Muscatine, passed away on Tuesday, December 9, 2008, at his home in Muscatine.
Memorial Service will be 11 a.m. on Friday, December 12, 2008, at the Wesley United Methodist Church. Dr. Hal Green will officate the services. Following the services a time of food and fellowship will be held at the American Legion.
In lieu of flowers, memorials may be directed to the U.S.S. Ranger fund or the Muscatine Agricultural Learning Center in Jon's name. The Geo. M. Wittich-Lewis Home for Funeral and Cremation Services is handling the arrangements.
Jon was born on May 18, 1951, in Muscatine, the son of Walter and Arlene Smith Hatfield. He married Sue Morehead on October 15, 1972, at the Illinois City United Methodist Church.
Jon served as a quartermaster in the United States Navy from 1970-73. He was a lifetime member of the U.S.S. Ranger (CVA/CV61) Reunion Association, the American Legion and V.F.W, where he was past commander of each, and the Wesley United Methodist Church.
Jon was a graduate of the GM and Toyota Colleges, where he attained his master certifications. He and his father owned and operated Hatfield's Corner Garage for 20 years before working as the service manager at a GM dealership and Toyota of Muscatine.
He enjoyed talking with people, caring for his customers, being outdoors, riding his John Deere Mower, rocking his dog, Toby and decorating and entertaining at Halloween. Most of all he enjoyed spending time with his family, especially his children.
He will be deeply missed by his wife, Sue Hatfield of Muscatine; a son, Jake Hatfield of Iowa City; two daughters, Morgen Hatfield and Meagan Hatfield, both of Muscatine; his parents, Walter and Arlene Hatfield of Muscatine; a brother, Walter "Pete" Hatfield, Jr. and his wife, Cindy, of Muscatine; a sister, Debbi Hendriks and husband, Scott, of Muscatine; his best friend, Don Law; and nieces, nephews, and many friends.
He was preceded in death by his grandparents; two sisters, Alice Mary and Michelle and a brother, Keith