In Memory
Cynthia Proffitt (Dwyer)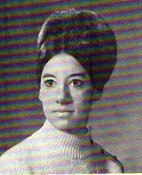 Cynthia ''Cindy'' L. Proffitt Dwyer
September 30, 1950 - April 16, 2002


MUSCATINE, Iowa - Cynthia (Cindy) L. Proffitt Dwyer, 51, of 418 W Seventh St., died Tuesday, April 16, 2002, at the University of Iowa Hospitals and Clinics.

Services will be 10:00 A.M. Saturday at the Ralph J. Wittich-Riley-Freers Funeral Home. The Rev. Judy Gingrich of the Iowa City Hospice will officiate. Burial will be at a later date.

Visitation will be from 4 to 7 p.m. Friday at the funeral home. Memorials may be made to the Cynthia Dwyer Memorial Fund.

Mrs. Dwyer was born on Sept. 30, 1950, in Muscatine, the daughter of Schuyler (Skeeter) C. and Mary Ann Motier Proffitt. She married Timothly L. Dwyer on Oct. 4, 1999, in Muscatine.

Survivors include her husband, Tim Dwyer of Muscatine; one son, Aaron C. Heathman of Sioux Falls, South Dakota; one sister, Suzi Webb and her husband, Bob, of West Liberty; one brother, Craig Proffitt of Bakersfield, California; one step-brother, Tom Gray and his wife, Melanie, of Muscatine; and a step-father, Jerry Stark of Muscatine.

She was preceded in death by her mother, Mary Ann Stark, her father, (Skeeter) Proffitt and her step-mother, Dorothy Gray Proffitt.