In Memory
Cindy Stange (Kaufmann)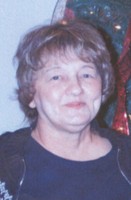 MOSCOW, Iowa — Cynthia A. Kaufmann, 65, of Moscow, passed away Tuesday, Nov. 24, 2015, at University Hospitals, Iowa City.
Funeral service will be 10 a.m. Thursday, Dec. 3, 2015, at Ralph J. Wittich-Riley-Freers Funeral Home, Muscatine. The Rev. Jon Gimme of Peace United Methodist Church will officiate. Casket bearers will be Richard Stange, Kory Kaufman, Paul Murray, Larry Crees, Shawn Bobbit and Joseph Stover. Burial will take place in Greenwood Cemetery. Visitation will be 3-7 p.m. Wednesday, Dec. 2, 2015, at the funeral home. Memorials may be made to the Shriner Hospital. Online condolences: www.wittichfuneralhome.com.
Cynthia was born on Nov. 21, 1950, in Muscatine County, the daughter of Harold "Jack" and Mary Anne Sylvester Stange. She married Fred Kaufmann on March 3, 1973, at Zion Lutheran Church in Muscatine.
She was a farm wife, a house wife and a foster care mother and loved spending time with her grandkids. She loved working in her flower gardens.
Those left to honor her memory include her husband, Fred Kaufmann, Moscow; one son, Kory Frederick Kaufmann, and wife, Shanna, Moscow; one daughter, Jennifer Ann Kaufmann, Naperville, Ill.; eight grandchildren; her father, Harold "Jack" Stange; and one brother, Dick Stange, and wife, Ann, Muscatine.
She was preceded in death by her grandparents; her mother; and one nephew, Timothy Stange