In Memory
Martha Worthington (Purcell)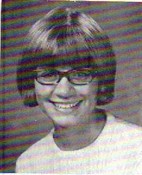 Born: 14 Nov 1951
Died: 29 Jun 2003
Martha Louise Worthigton Purcell, 51, rural Gothenburg, died of cancer Sunday, June 29, 2003, at Good Samaritan Hospital, Kearney, Neb.
Services were held Monday, July 7, at the Evangelical Free Church, Gothenburg. The Revs. Rick Relmert and Irv Jennings officiated. Burial was at Tallin cemetery, Arnold, Neb.Visitations were held Saturday, July 5th, at Blase Memorial Chapel, Gothenburg, and Sunday, July 6th, at Tallin Church, Arnold. Memorials may be made to the Tallin Chrurch Building Fund.
Mrs. Purcell was born Nov, 14, 1951, in Creston, the daughter of Vernon Dean and Ethel Louise Dunkerson Worthington. She married Gene Purcell Sept. 2, 1972 at Lincoln Boulevard Baptist Church, Muscatine.
She began school at the age of four. She attended country schools from kindergarten through grade school and graduated from Muscatine High School at the age of 17. She then entered New Tribes Bible Institute, Waukesha, Wisc.
She and her husband finished their missionary training in February 1974. They served as missionaries under New Tribes Mission in Mexico until 1994, In 1979 they both completed the Child Evagelism training in Warrengton, Mo. Some of their ministries in Mexico included community development, guest housing, teaching literacy, dorm parenting and tribal church planting.
When they returned to Arnold, they began pestering at the Tallin Church. She played the piano each Sunday morning, taught Sunday school and led summer vacation Bible schools and the Good News Club.
She enjoyed playing and spending time with her grand kids and working in her flower gardens. She loved reading and studying the Bible and spending time in prayer.
Survivors include her husband; two daughters, Heather Furne and husband Craig of Arnold and Hannah Johnson and husband Mike of Papua, New Guinea; a son Eric Purcell and fiance Lisa Martin of Fremont, Neb; her parents, dean and Ethel Worthington of Muscatine, four grandchildren Olivia and Landen Furne and Dorian and Kirra Johnson, five sisters Cheryl estabrook of Muscatine, Mary Long and husband Gene oh thailand, Nancy Bloomberg and husband Don of Albin, Wyo, Twyla Thiessen and husband David of Davenport and Deanna McWilliam and husband Stuart of Fredrick, Wisc.
She was preceded in death by a brother, Allen Worthington.