In Memory
Carol Ann Gminski (Simpson)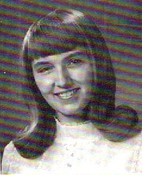 Born: 5 Jun 1951
Died: 1 Sep 1998
Carol Ann Giminski, 47, of Vickersburg, Miss., died Tuesday, Sept 1, 1998 at Parkview Hospital in Vickersburg, MIss.
Burial was at Jonesboro, Ark. Arrangements were under the direction of Bob Neal and Sons Funeral Home of Brinkley, Ark. Memorials may be made to St. Michaels's Catholic Church, 100 St. Michaels Place, Vickersburg, Miss 39180
Mrs. Simpson was born on June 5, 1951 in Rolla, Mo, the daughter of the late Gene and Sultana Johnson Giminski. She married Don Simpson, formerly of Brinkley, Ark.
Survivors include her husband, Don Simpson, of Vickersburg, Miss., one brother, Mike Cminski of Chicago and one sister, Beth Danz of Muscatine.
Please post this poem on Carol Ann's memorial. I am her husband and miss her very much.

Miss Me - But Let Me Go

When I come to the end of the road
And the sun has set for me,
I want no rites in gloom-filled room,
Why cry for a soul set free!!
Miss me a little - but not for long
And not with your head bowed low.
Remember the love that we once shared,
Miss me, but let me go.
For this journey that we all must take
And each must go alone;
It's all a part of the Master's plan
A step on the road to home.
When you are lonely and sick at heart
Go to the friends we know,
And bury your sorrows in doing good deeds.
Miss me, but let me go.
Edgar Albert Guest

I miss you Carol Ann
Guide me as you always have.
Don