In Memory
Gayla Arlington (Taylor)
Born: 14 May 1951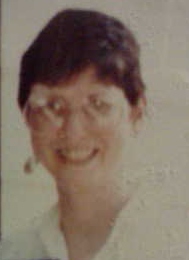 Death: 14 June 1993
Gayla M. Taylor, 42, 2924 Cedar St. Muscatine died Monday June 14, 1993 at Muscatine General Hospital.
A funeral Mass will be at 10;00 a.m. Thursday at St. Mathias Catholic Church with Father George Hoeing officiating. Visitation is from 3 to 7 p.m. Wednesday at the Geo M. Whittich-Lewis Funeral Home with a vigil service at 7. Parking is accessible from the Tipton Road entrance. Burial will be at the Columbus City cemetery.
Honorary pallbearers are Janet Forbes, Linda Hatfield, Maxine Miller, Mary Kay Rhode, Connie Aull, Cheryl Estabrook and Donna Ross.Memorials may be made to the American Cancer Society or St. Mathias Parish.
She was born May 14, 1951 in Muscatine to Kenneth and Marie Prado Arington. She married Robert "Tobe" Taylor Jan 23, 1969 in Muscatine and was a life-resident of Muscatine. Mrs. Taylor was a member of St. Mathias Catholic Church, a member of the board of directors of the American Cancer Society, Reach to Recovery Group and other cancer support groups.
She attended St. Mary grade school and graduated ffrom Hayes Catholic High School, later attending Muscatine Coummunity College.
She was employed as an administrative clerk at Thatcher Tubes. She also taught Middle Eastern Dance at The Muscatine Community College and was a member of Dancers Oriental. She was accomplished artist and was chairperson of the Muscatine County Sesquicentenmial.
She is survived by her husband, Robert, one son, Benjamin, at home, two daughters Jennifer of Muscatine and Andrea, at home, one grandson, Gage, and her mother Marie Arington of Columbus Junction: one brother, Kenneth Mark Arington of Muscatine, and two sisters, Mrs Joesph (Suasn) Cowles of Grand Prarie, Texas and Mrs Bernard (Anita) Wingerter of Keokuk.
She was preceded in death by her father.