In Memory
Pat King (Tietje)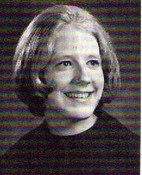 Funeral services for Mrs. Patricia Teitje, 20, were held at 10:00 a.m. Saturday at the First Christian Church. Rev William Keller officiated. Mrs. Milo D. Jones was organist. Mrs Gary R. Fortney was vocalist.
Patricia was born November 11, 1951 in Muscatine, her parrents were Lucien Clifford King and Geraldine M. Malchert.
Pallbearers were Mike Lamp, Richard L. King, William L. Corwin, Roger Hubbard, Keith Schreurs and Alvin Schreurs. Internment was at Greenwood cemetery under direction of the Riley Funeral Home.
Mrs. Teitje was killed instantly Tuesday night September 19, 1972 when the motorcycle on which she was riding was hit by an auto.