In Memory
Adalia Penniston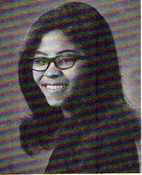 Adalia 'Della' May Peniston
February 27, 1951 - December 16, 2006

| | | |
| --- | --- | --- |
| Birthplace: | Muscatine | |
| Resided In: | Muscatine Iowa USA | |
| Funeral Home: | Ralph J. Wittich-Riley-Freers Funeral Home | |
| Visitation: | December 19, 2006 | |
| Service: | December 20, 2006 | |
| Cemetery: | Greenwood Cemetery | |






ADALIA ?DELLA? PENISTON
MUSCATINE, Iowa ? Adalia May ?Della? Peniston, 55, of Muscatine, died Saturday, December 16, 2006 at Unity Hospital.

Funeral Service will be Wednesday 10:00 a.m., December 20, 2006, at the St. Mathias Church. The Reverend Jason Crossen of the Ss. Mary and Mathias Parish will officiate. Casket bearers will be John Peniston, Howard Peniston, Robert Peniston, Jeremy Peniston, Mel Bird, and Dan Terpenning. Burial will be in Greenwood Cemetery.

Visitation will be from 4 to 8 p.m. Tuesday, December 19, 2006, with an 8 p.m. Rosary Prayer Service at the funeral home. Memorials may be made to the family in care of Alice Peniston.

Della was born on February 27, 1951 in Muscatine, the daughter of Earnest and Alice Wright Peniston.

She was employed at HON as a customer service representative. She was a member of the Ss. Mary and Mathias Parish and the St. Mathias prayer group.

Della enjoyed knitting, traveling, going to musicals and plays. She also loved to read and spend time with her family and friends.

Survivors include two sons, Brandon James Peniston of Muscatine and Donovan Peniston of Muscatine; one daughter, Allyson Peniston of Muscatine; her parents, Earnest and Alice Peniston of Muscatine; three grandchildren; two brothers, Ernie Peniston, of Muscatine and Milton Peniston of Muscatine.

She was preceded in death by one brother, Jerry Peniston, her grandparents, several aunts, and uncles.