In Memory
Mike Richardson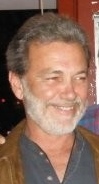 MUSCATINE, Iowa — Michael D. Richardson, 64, of Muscatine, passed away on Sunday, April 26, 2015, at UnityPoint Trinity in Muscatine.
There will be no visitation or memorial services. Cremation rites have been facilitated by the FCS Life Transition and Cremation Center. The Geo. M. Wittich-Lewis Home for Funeral and Cremation Services is caring for Michael's arrangements and his family.
Michael Duane Richardson was born on January 11, 1951, in Muscatine, the son of Wilbur Duane and Viola F. (Rouse) Richardson.
Michael will be deeply missed by his father, Wilbur Duane Richardson, of Muscatine; mother, Viola F. Coder, of Muscatine; sister Sharon K. Richardson-Wilson, of Muscatine; niece Piper L. Beason of Muscatine; great-nephew Jerid J. Smith, of Muscatine; and his cat Boo-Boo.
Michael was preceded in death by his grandparents.